RNEBS
Royal Naval Engineers' Benevolent Society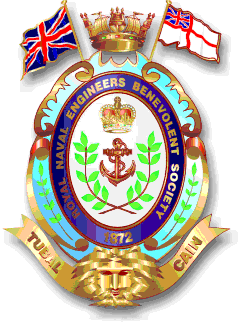 RNEBS 150
Archive Information
This event has already occurred and the following information is for interest only.
​
We will be celebrating 150 years since the founding of the Society with a special one-off event in the form of a Gala Dinner to be held at Home Park in Plymouth on 11th June 2022.
The dress code will be black tie but this will not be a formal mess dinner, and therefore no mess rules will apply. We cordially invite you to bring your partner with you.
As we did for Artificer150 back in May 2018, there are dedicated web pages on this RNEBS website set up for expressions of interest, the list of attendees the menu, ticket sales, seating arrangements etc. These web pages will be released for viewing when appropriate. By hovering the cursor on highlighted RNEBS150 menu bar at the top of the page you will see the other available pages in the dropdown list
Dinner Menu
& Drinks Selection
Menu
S1 - Soup of the day (V) & (GF)
Roasted sweet potato and rosemary
S2 - Ham Hock Terrine
Served with herb toast, roasted beetroot and pickled shallots
S3 - Prawn and Smoked Salmon Tian
Prawns dressed in marie rose sauce, with cucumber, lettuce and lemon
-------------------
M1 - Pan roasted Chicken Breast (GF)
Served with herb roasted new potatoes, baby vegetables and chicken and white wine sauce
M2 - Slow roasted Pork Belly (GF)
Served with wholegrain mustard mashed potatoes, wilted spinach and peppercorn sauce
M3 - Wild Mushroom and Spinach Tart (V)
Served with herb roasted new potatoes, bundled baby vegetables, pesto & devon cream sauce
-------------------
D1 - Belgian Chocolate Cheesecake
Served with Chantilly cream and raspberry coulis
D2 - Caramel & Apple Crumble Pie
Served with spiced apple puree and clotted cream
D3 - Lemon Meringue Pie
Served with fresh mixed berries
D4 - Vanilla Cheesecake (GF)
-------------------
Cheeseboard
Tea, Coffee & Mints
​
Key: (V) = Vegan (GF) = Gluten Free
​
Drinks
​
Prosecco Borgo SanLeo - Veneto, Italy
A wonderfully fresh and well balanced, appley palate with just a hint of delicate almond.
11% vol Vegan
​
Taworri Sauvingnon Blanc - Marlborough, New Zealand
This benchmark wine is famed for its crisp zesty character, goosberry fruit, grassy notes and utterly delicious. 12.5% vol Vegetarian
​
Cormoran Tempranillo 2018/19 - Rioja, Spain
Bright cherry red with masses of red berry fruit flavours leading into richer, warmer fruits
with a hint of vanilla. Well balanced, lingering and harmonious.
14% vol
​
Sparkling and Still water and Fruit Juice
​
Commemorative Gifts
​
Firing Glass
​
The team is pleased to announce the addition to our special dinner event of an RNEBS sponsored commemorative gift for each attendee. Each will receive an engraved Firing Glass.
​
These fine glasses have been sourced from the company which provides engraved glassware for presentations by the RNEBS to trainees who excel at today's training establishments. The design combines an unusual solid base with a fine fluted design, the result being a robust and stylish glass.
​
Each glass will be engraved with the RNEBS crest on the front (similar to that shown in the photo) and RNEBS150 commemorative text on the back. Please note that we will not be placing individual names on the glasses. These boxed glasses will be placed at your dining place and can be used for port serving (or water/soft drink if preferred).
​
Spoof Challenge Coins
​
Spoof is a strategy game, typically played as a gambling game, often in bars and pubs where the loser buys the other participants a round of drinks.
Spoof is played by any number of players in a series of rounds. In each round the objective is to guess the aggregate number of coins held in concealment by all the players, with each player being allowed to conceal up to three coins in their hand.
At the beginning of every round each player conceals a quantity of coins, or no coins at all, in their closed fist, extended into the circle of play. The initial player calls what they think is the total number of coins in play. Play proceeds clockwise around the circle until each player has ventured a call regarding the total number of coins, and no player can call the same total as any other player.
After all players have made their calls, they open their fists and display their coins for the group to count the total. It is illegal for a player to open their hand without making a call. The player who has correctly guessed the total number of coins withdraws from the game and the remainder of the group proceeds to the next round. If no player guesses the total correctly, the entire group continues play in the next round. The starting player for each subsequent round is the next remaining player, clockwise from the starter of the previous round.
Play continues until all players have been eliminated except for one, whereupon that last remaining player pays the stipulated stakes to each other player. In some versions of the game additional rules are used, such as "no gloating" (a leaving player is not allowed to celebrate), or left-handed play.
​
Nite Alpha Diving Watch
​
The Alpha, with its 316L stainless steel case and bracelet, racing green sunburst dial and matching ceramic bezel is our take on the classic dive watch. With strength at its core, the Alpha pairs a Swiss-made movement with a modern-day style that is just as at home on deep dive adventures as it is on dry land. The Alpha is fitted with blue and orange T100 Tritium watch illumination technology providing a constant, self-powered glow, because when diving, being able to read the time, all the time, with certainty is a matter of survival.
​
The watch comprises a brushed steel case and a brushed steel bracelet. The dial diameter is 31mm and the case diameter is 42mm and 14.6mm deep. The dial is fitted with T100 Blue and Orange tritium markers and covered with a sapphire crystal and surrounded by a unidirectional ceramic bezel. The lug width is a standard 22mm. The internal workings is a battery powered Ronda 715Li movement and has a battery life of ten years. This 182g divers watch is good for 300 metres and is fitted with a screw down crown.
​
We have worked with the manufacturer to have the citation laser engraved on the dial. The watch and presentation box is available at the very reasonable cost of £480. There is a 2 year warranty and free UK shipping is via Royal Mail.
​
Programme &
Seating Arrangements
​
Programme
1900 - Home Park doors open
1900 to 1945 - Drinks reception
> Photo Booth open for business <
1945 - Call to dinner
2000 - Guests seated for dinner
Welcome address by the President
2005 - Dinner
2130 - Clear Tables
2145 - Port Service and Cheese Platter
Address by the President
Toasts
2200 - Coffee
> 2230 - Music and Dancing <
2359 - The End
​
​Seating Arrangements
Guests will be seated on circular tables of eight and the six numbered tables will be arranged in a circle in the centre of the room. Place cards will indicate where you will be seated and this will enable the serving staff to present you with your chosed menu items.
​
We will be providing an open bar and waiter service will be available at the tables. We will provision two bottles of wine on the table and once consumed, additional wine will be provided by waiter service.
​
Table 1
Mark Stevens and Leslie Esperas
Stephen Else and Donna Newell
David Woollard and Liz Woollard
Nigel Fyfe and Susan Fyfe
​
Table 2
Rod Lampen and Ronnie Lampen
Irv Campbell
Paul Spray
Steve Woodford and Loraine Woodford
Tony Worsfold and Sandra Worsfold
​
Table 3
Paul Kirkpatrick and Karen Kirkpatrick
George Stanton and Trish Stanton
Bill Hetherington and Tina Hetherington
Geoffrey Harding and Karen Harding
​
Table 4
Graham Saunders
Keith Rowbottom
John Ross and Sarah Ross
Chris Heaver
Martin Freeman and Mike Jackson
David Page
​
Table 5
Michael Beckett
Peter Payne-Hanlon and Angela Payne-Hanlon
Rodney Wright and Susan Wright
David Poole and Di Poole
Robert Geddes
​
Table 6
Stephen Lees
Martin Waltho
Ron Clarke and Angela Clarke
Peter Bellamy
Steven Southern and Anne Burnside
Ken Morrison
​
​
Photography
A photographer has been engaged to take pictures during the gala dinner. The RNEBS150 Team will not be providing access to any photographs taken on the day although we will have access to all and will use them at our discretion in any forthcoming RNEBS publications and websites.
​
We will be setting up a website so that you can view the pictures and make your own arrangements with the photographer to purchase any pictures taken on the night. Contact details will be provided on the RNEBS150-Photos website.
​
Music
We have engaged a DJ to provide music throughout the gala dinner
​
Safety
We will be providing a hand sanitizer next to the entrance for your convenience. If anyone wishes to wear a face mask, please feel free to bring one with you.